I really didn't intend for my 50th stash-busting project to be posted on the very last day of the year, but that seems to be how it worked out. I met my pledged goal from the beginning of the year, 50 projects sewn from my stash. I actually over-achieved this goal, but not everything got blogged for all to see. This is the 50th project blogged out of my stash, if you want to be really technical about it. So long as I'm finishing up what was a fairly ambitious pledge, I might as well end with a relatively complex project; therefore, today's project is a 3-piece suit.
Romeo is wearing Burda 9781, a Burda envelope pattern that no longer appears to be on the Burda/Simplicity/New Look website. Burda does still have a boy's suit pattern in sizes 2-8, Burda 9443, though it looks to be a little different than the 9781 version.
I've made this pattern before. Initially I made just the jacket. Then I made the jacket and trousers in two sizes. This was my first time making the vest that goes with this pattern. I left the pockets off the vest since he doesn't have a pocket watch and I can't think of anything he'd be likely to put into a vest pocket that I would want to discover later. It's better not to even give him the option.
The vest pattern calls for a partial belt in the back, but I put in elastic instead which you can just see peeking out beside the jacket here. I know vests traditionally are made of lining fabric for the back, but I prefer to make them out of the same outer fabric as the front, since the jacket is lined which keeps things from sticking, and I think it looks nicer to have fabric back there if he takes off his jacket.
The fabric is a wool suiting. Based on how the fabric looked when it was just a piece of fabric, I thought it would turn out to be quite wild looking, but when it was all put-together, it's actually fairly neutral, especially from a distance. The way the colors prefer to blend makes many of the pictures here look blurry (not to mention that Romeo didn't really want to hold still for more than a few seconds at a time). The lining is Bemberg rayon. This suit is made up in the largest size on the pattern (size 9/134), so when Romeo outgrows it, I'll need to change to using another pattern. I did put shoulder pads in it, but apparently Romeo has inherited my sloping shoulders. I wonder if I should adjust for that on my next version of this suit or leave the room there for him to grow.
I did give him plenty of growing room, so it will be a while before he needs a larger suit.
The trouser hems are extra-deep so I can let them out if he tries to get taller before he fills out the jacket completely.
I did not make his shirt; it's ready-to-wear. I also didn't tie his tie–he did that. It's supposed to look that way; it's some kind of fancy knot that I don't know the name of.
We tried to take a few pictures with the shades off, but he complained that the sun (it was cloudy, but not raining) was just too intense. I suspect that he just likes to be the guy wearing sunglasses with his suit. Apparently he wasn't in the mood to change facial expressions the day we took these either. Maybe he was trying to hide his adorable dimples? It didn't work–I caught them anyway.
Still, he's a really good sport to oblige his Mama with a photo shoot of his new suit.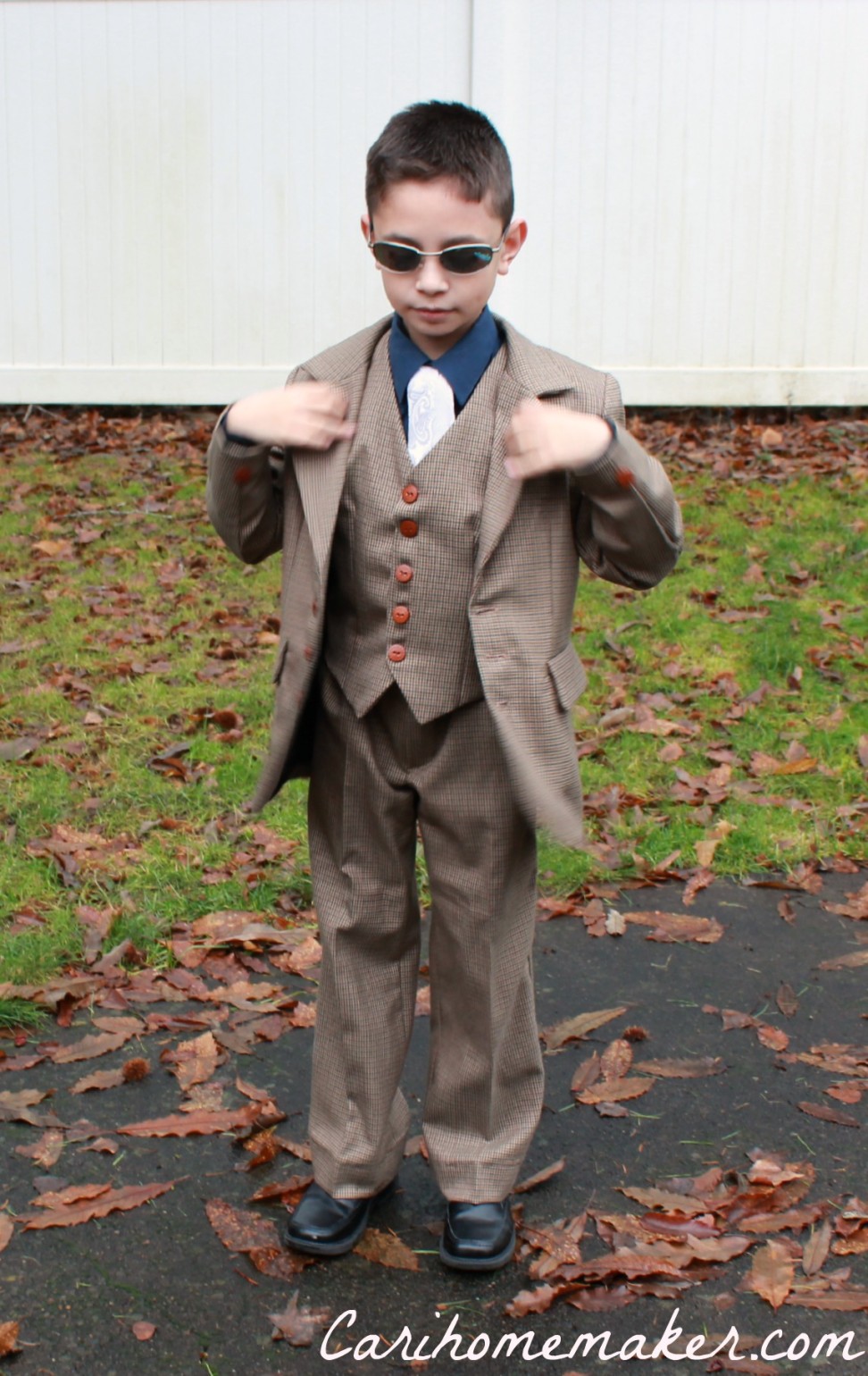 One last thing that makes this suit special. The buttons are from my Grandma S.'s stash. She died over 5 years ago, and a couple of weeks ago, my sisters and I met and divided up some of her sewing stuff that my Grandpa had sent to my parents' house for us. She had a huge collection of buttons spanning multiple decades. It was nice to be able to put these to good use.
I'm still planning to work on sewing up my stash into 2015, but I think my goals will be a bit different. That's a post for another time. For now, it's just a relief to post these final stash-busting stats for 2014.
Stash-busting stats 50/50. 111 yards.