McCall's 7989: I Heart the 90's
Hooray! I managed to sneak in one last vibrantly colored April Stash Bust before the end of the month (being on the West Coast of the United States, it is still April here, for a few hours at least).
The pattern is a slip-dress from a 1995 copyrighted McCall's (7989) pattern. I couldn't use my original pattern from my teen years because I'm not the same size I was when I was 15 (though I do still have my original pattern in my stash). I ended up buying a larger size pattern from an Etsy seller. I suppose I could have gone for the authentic slip-dress look and worn my Dr. Marten's, but I like how this dress pairs with my Barbie pink heels.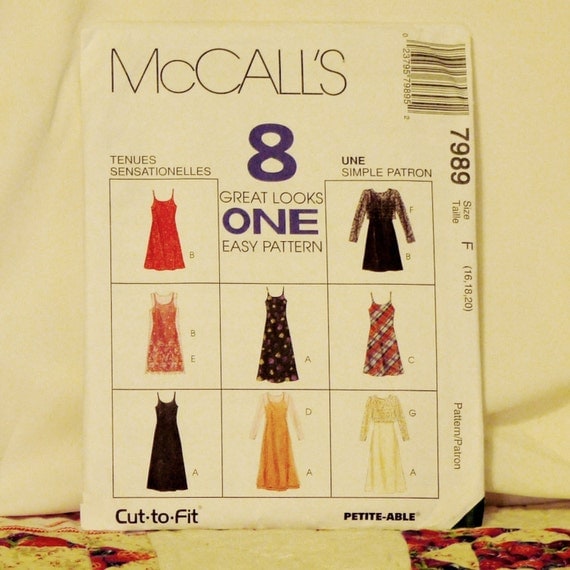 I think I had less than 1 1/2 yards of fabric to work with, but I don't wear above-the-knee dresses or skirts, so it usually takes more fabric than that to make up a dress for me. I just managed to eke this one out of what I had. The skirt is cut just a tiny bit slimmer than the pattern and I added back ties.
I did an FBA and adjusted the side seams to fit my circumference proportions since I'm not as hourglassed shaped in the midsection as the pattern is.
The fabric is rayon challis from my stash. I absolutely love this fabric, but originally had intended it for something for Guinevere. I have another piece of challis she can have later, I couldn't pass up the opportunity to wear all these brightly colored hearts. They so make me think of the sweatshirts I or my friends had as kids except that as a kid, brightly colored hearts were applied with puffy fabric paint. I was worried about VPL's and general show-throughness from the light-colored background of the fabric, especially in sunlight since this is meant to be a summer dress. I didn't want it to be one of those garments that needs several slips underneath to be modest, so I underlined the entire thing in white cotton batiste, also from my stash. The crispness of the batiste does take away from the draping properties of the challis, but also keeps it from clinging and is nicely breathable for summer.
There is so much contrast between the light/dark/bright colors of this fabric that I also had some trepidation that the print would show through on things like darts or facings. That was the biggest reason I did an underlining instead of a lining. For the facings, I ended up using just the batiste without the challis, mainly so it wouldn't show through. I wouldn't have had enough challis for facings even if I'd wanted to make it up that way.
What's that you say? I can stay in the Challis Chalet until Midnight? Hot Dog! Wait, there's an umbrella in the blog button. Let me get mine.
Stash busting stats: 13/25
Any challis sewing in your summer plans?