I suspect that the real reason I wasn't as excited by Guinevere's Pink Cherry Dress as I probably should have been was this dress right here which I had cut out at the same time.
If you think it looks a little old-fashioned, that's probably because I used vintage Simplicity 3295 which has the copyright date of 1950 printed on it's instructions. View 1 is the one I made up.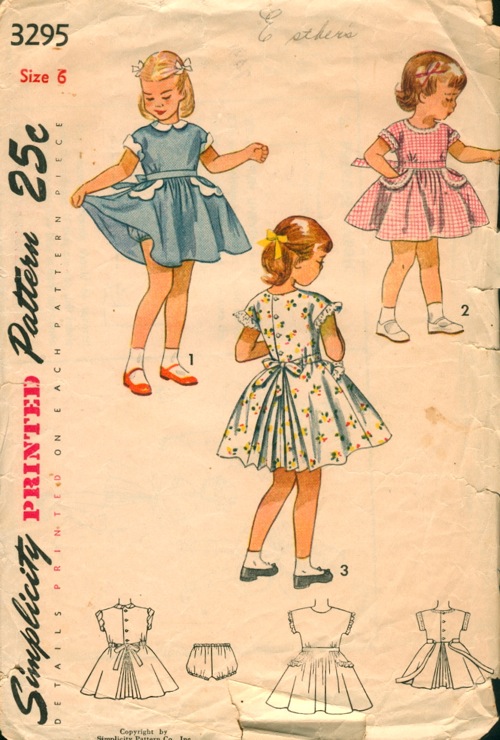 I've been waiting for Guinevere to be a size 4 so I could make her up a dress from this pattern. The pattern actually belongs to my mom, but I know she hasn't made it up because it's in really, really bad shape. If she'd ever used it, she would have put it back together. At this point, I have it in a plastic bag, but with every touch, the envelope crumbles into ever tinier pieces. Whoever gave it to my mom, however, had used it (or whoever gave it to the person who gave it to my mom. Whatever.) I wonder what the other dress looked like, and whether they made it up right away in 1950 or 1951, or if it was some later decade.
Look! It has functional pockets. The amount of detail on this dress is actually pretty amazing. The instructions were clear, but it seemed like putting it all together too an inordinate amount of time. I think it was all the contrast scalloped edges that forced me to take extra time.
There's plenty of fullness in the skirt, but it just hangs without a crinoline. I got Guinevere's crinoline at Unique Vintage.com, but they don't seem to be re-stocking their little girl crinolines at the moment.
The back has those pleats instead of being gathered all the way around. The only thing really not period-accurate about this dress is that I used a poly-cotton blend instead of all cotton or some other natural blend.
Because of the wrinkle-free properties of the fabric, I was afraid my pleats wouldn't hold, so I edge-stitched them inside and out, as inspired by this blogger's fantastic pleated work.
I did add some inches to the bottom of the skirt because I'm pretty sure Guinevere would give me one of those combination glare/eyeroll looks of "Oh Mother, I can't believe you would even think that" if I dared to suggest that she have matching panties as would have been worn by the little girls whose mothers originally made up this pattern in the 1950's.
Despite the poly-blend fabric, the rest of the dress is pretty much made up as it would have been 63 years ago with pinked seams and lace hem tape with a hand-stitched hem.
Serged edges would look neater for inside pics, but it just didn't feel right to run this dress through the serger.
What does this make? My 3rd gingham outfit this summer? If I'd realized it was going to be the summer of gingham, I would have declared it so and given them all spiffy matching series titles. Obviously I'm loving gingham right now. I'm so happy to finally have this dress made up, and to have it turn out just as cute as I had imagined it in my head. And of course, Guinevere loves it too, even if she doesn't understand why all the sudden she's getting called Dorothy.