It's only about 100 degrees here, so my brain thought, "Hey, I should post about that spring coat I made." It makes no sense season-wise, but I have the feeling that the longer I put off writing about this coat, the less likely I'll post about it at all. These photos are back to the kids and a tripod rather than having my sister take them. I guess I'm going for that "noir" look here.
Of course there's a specific reason I made this coat. Every year, about twice a year, actually, there's those few weeks where it's too warm to wear a wool winter coat, too wet or windy to want to wear a sweater alone, and overall too cold to go without some kind of topper outside. During those couple of weeks, I always end up wanting a coat exactly like this one, but then the season passes and I put off making one. This spring I finally got around to making one and now I'll have it in my closet whenever I need it.
It was a bit of a surprise to me that this vintage Butterick 5455 pattern was the one I wanted to use for this. Of all the jacket and coat patterns in the world, I'm still not sure why this one stood out to me. I was able to get it with a bust size 41 1/2, the pattern size that requires the least fitting adjustments for me. I do hate fitting adjustments on garments that have separate lining pieces. I think the only thing I had to alter for this one was the sleeves. Even patterns made for "my size" usually end up with the sleeves too tight for my "muscular" biceps.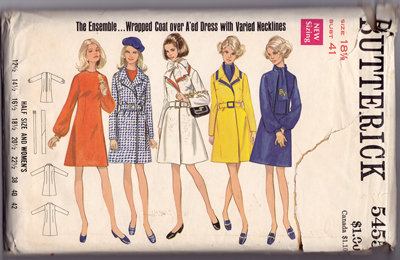 One major thing that this pattern was missing was pockets. I couldn't believe it, a coat pattern with no pockets. I guess it contributes to a sleek look, but it's terribly impractical for leaving the house which for me requires, at a minimum, a cell phone and keys. I added in some welt pockets with flaps, using the instructions and template from the book Do You Love What You Sew? by Nancy Erickson. My copy of the book is signed by the author, a souvenir purchased at the Sewing and Stitchery Expo many years ago. The only criticism I'd have for this method would be that the pockets could be a little bit deeper to fit my phone better. Otherwise, the book was pretty much the perfect way to add pockets to a pattern that didn't have them. I can't even really blame the pocket depth on the book template since the instructions also included how-to make them deeper. Noted for next time I use the book.
I guess the as pattern ensemble was designed, this was meant to be one of those jackets that was supposed to stay on for as long as the dress was on, since it didn't include belt carriers. I'm not feeling like that would be the most practical thing, even if I wasn't intending to use this jacket as outerwear. I added belt carriers because I definitely don't want to lose the belt. There aren't any closures on this jacket, so I need the belt to hold it closed. The belt buckle is a vintage mother-of-pearl thing I purchased off Etsy for my stash some time ago.
The main downside to this jacket? It wrinkles horribly. The fabric is a cotton brocade, exactly like what I used for this dress and this dress. Even if I hadn't been wearing it out and about the day I took these pictures, it still would have been wrinkled as soon as I put it on. The other downside is that it isn't really very water resistant. I thought about waxing it with some Otter Wax, but the samples I tried didn't look right. I would be open to making another one of these in some type of fabric that would work well for waxing, like a twill or something. Waxing a cotton jacket seems like a better way to get a raincoat than trying to make one out of polyurethane like the cheap ones I wore in college, but I'm going to hold off and see if I still feel a wardrobe gap with this jacket in my closet. Note to self: if I make this again, make the sleeves an inch longer.
Of course, the above photos are color-altered for effect. How bright is this jacket? Here's a few detail shots that show the true color.
It's not a 100% perfect pocket, but considering that my fabric is a cotton brocade with absolutely no give to it, this is a pretty decent welt pocket. The lapels were the same kind of challenge. There was no way to steam out anything that didn't match up perfectly.
Lastly, the lining is super-fun. It's just a cheap polyester something or other out of my stash, but for this jacket it was the perfect thing.
For the pictures, I wore my jacket with this dress in case you were wondering.
Stash-busting stats: 11 projects this year. 28 yards of fabric.